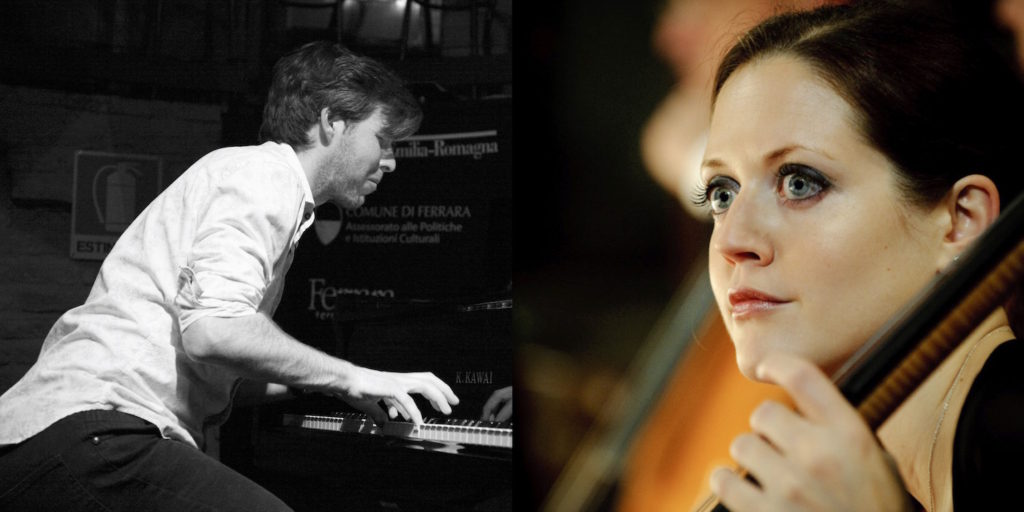 Concert by Rachel Helleur-Simcock   (cello) and Gwilym Simcock   (piano)
PLUS Spotlight concert featuring Ellie Corker
This event will be broadcast live and will not be available to be publicly viewed on social media.
Anyone will be able to attend our online concerts, but as places are limited we will be allocating online attendance slots to our regular audience and season ticket holders as a matter of priority.
If you are not a season ticket holder we would ask you to consider leaving a donation to the concert series (if you are able to) after the concert. We rely on our ticket income to keep our concert series going.
Welcome from the Chair of Trustees & the SCS Spotlight Director
Spotlight Concert featuring Ellie Corker
Sonata in A Major by Scarlatti
Impromptu in Gb Major by Schubert
Pagodes by Debussy
Short Community spotlight on the youth choirs in Cheshire with choir leader, Victoria Palethorpe followed by a performance by young singers from Cheshire
Concert by Rachel Helleur-Simcock & Gwilym Simcock
Prelude from Cello Suite No 1       J.S. Bach                       
Vocalise       Rachmaninoff                                                        
In Your Own Sweet Way       Dave Brubeck                              
Poem       Gwilym Simcock            
How Deep is the Ocean        Irving Berlin                  
Study in Copper       Reginald Foresythe, arr Simcock                                 
Rachel Helleur-Simcock has been a member of the Berlin Philharmonic Orchestra since 2009. Born in 1980 in Ipswich, Rachel studied at the Purcell School of Music, The Royal Academy of Music and the Hochschule für Musik 'Hanns Eisler' in Berlin, before becoming a member of the Karajan Akademie of the Berlin Philharmonic. She was a member of the National Youth Orchestra of Great Britain and the European Union Youth Orchestra, where she was principal cellist. Rachel has worked as guest principal cellist of the London Philharmonic Orchestra, Philharmonia Orchestra, Bavarian Radio Orchestra and the NDR Radio Orchestra of Hamburg. Her first full-time appointment was as the principal cellist of the Deutsche Oper Berlin, where she worked for two years. Rachel is also a member of 'The 12 Cellists of the Berlin Philharmonic', a chamber group made up of the Berlin Philharmonic cello section who recently received an Echo Klassik award for their latest recording.
Gwilym Simcock has carved out a career as one of the most gifted pianists and imaginative composers on the European scene.  He moves effortlessly between jazz and classical music, with a 'harmonic sophistication and subtle dovetailing of musical traditions'. Gwilym has been hailed as a pianist of 'exceptional', 'brilliant' and 'dazzling' ability, and his music has been widely acclaimed as 'engaging, exciting, often unexpected, melodically enthralling, complex yet hugely accessible', and above all 'wonderfully optimistic'. Gwilym has worked extensively with many British and international jazz artists including Dave Holland, Kenny Wheeler, Lee Konitz, Brian Blade, Bob Mintzer and Bobby McFerrin, and has worked with classical orchestras including the LSO, BBC Philharmonic, Britten Sinfonia and City of London Sinfonia. He has also toured with Classical virtuoso Nigel Kennedy, and is currently touring with guitar legend Pat Metheny.