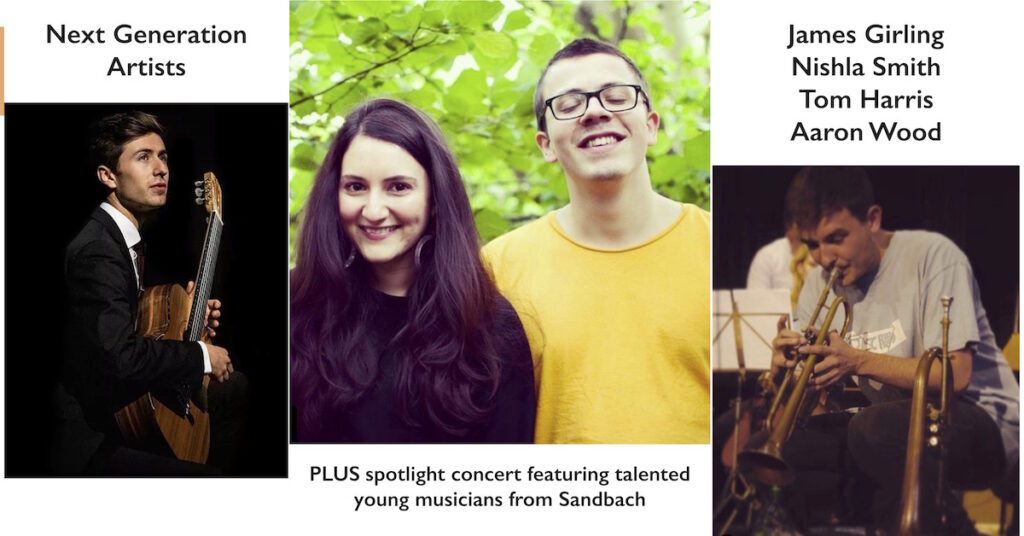 Concert by exciting upcoming young musicians from Manchester
PLUS Spotlight concert featuring talented young musicians from Sandbach
This event will be broadcast live and will not be available to be publicly viewed on social media.
Anyone will be able to attend our online concerts, but as places are limited we will be allocating online attendance slots to our regular audience and season ticket holders as a matter of priority.
If you are not a season ticket holder we would ask you to consider leaving a donation to the concert series (if you are able to) after the concert. We rely on our ticket income to keep our concert series going.
Welcome from the Chair of Trustees & the SCS Spotlight Director
Spotlight Concert featuring talented young musicians from Sandbach
Short interview with a surprise mystery guest!
Concert  by Tom Harris, Nishla Smith, Aaron Wood & James Girling
programme
Chega de Saudade – Antônio Carlos Jobim
Olha Maria (Amparo) – Jobim
The Last Time I Saw Richard – Joni Mitchell
By Strauss – George & Ira Gershwin
The Kiss (from 'Blow-Up') – Herbie Hancock
Cherokee – Ray Noble
Can't We Be Friends – Kay Swift & Paul James
Skylark – Hoagy Carmichael & Johnny Mercer
Someday My Prince Will Come – Frank Churchill & Larry Morey
I'll Be Seeing You – Sammy Fain & Irving Kahal
James Girling is a versatile guitarist, improviser, arranger and composer. Tutored by classical guitarist Craig Ogden and jazz pianist Dan Whieldon, he graduated from the Royal Northern College of Music with a Masters in 2018. Since, James has been featured as guest soloist with the RNCM Big Band, with whom he also performed for the duration of his studies alongside eminent soloists including Tim Garland, Martin Taylor, Nikki Iles, Tina May, Julian Joseph and Markus Stockhausen.
In addition to performing widely as a classical guitarist, James has toured the UK and into Europe with various original ensembles whose music is rooted in different traditions of improvisation, including the Afrobeat/Ethiojazz-inspired 11-piece Agbeko, contemporary jazz Lieko Quintet and swing-era septet The Easy Rollers. From 2015-20, quintet Artephis (co-led by James and Aaron) were Jazz North artists on its Northern Line and Introduces schemes, and their compositions have aired on BBC Radio 3 and 2.
As an arranger, James has been commissioned by Jacqui Dankworth, Andy Scott, and
Aquarelle Guitar Quartet with Clarice Assad.  www.jamesgirlingmusic.com
Nishla Smith is a singer and writer driven by a desire to tell stories. Her unique musical sensibility, along with this preoccupation with narrative, is recurrent throughout a diverse array of musical projects.
In 2020, she toured her first staged work, 'What Happened to Agnes', created in collaboration with visual artist Luca Shaw and jazz pianist Tom Harris. 'Agnes' was co-produced by Opera North and Leeds Playhouse, and toured nationally with support from Arts Council England. Following 'Agnes', Nishla and her collaborators formed Ulita, a cross-disciplinary arts collective focused on creating music-driven theatre. She was awarded a 'Developing Your Creative Practice' grant to work with the Ulita team on a second show. 'Sister' will commence rehearsals at Britten Pears Arts this summer with support from Arts Council England, and has been selected as part of Mercury Musical Developments' BEAM, a showcase for new British musical theatre. Outside of her work with Ulita, Nishla heads up an original jazz band, the Nishla Smith Quintet. Formed out of a residency at Sage Gateshead, the quintet recently joined Jazz North's Northern Line artist roster. Their recent performances have included Manchester and Lancaster Jazz Festivals, NQ Jazz, and Vortex Jazz Club, and they are set to release a debut album with Whirlwind Recording in Autumn 2021. Over the course of the 2017/18 season, Nishla produced and performed a major commission for Manchester Collective — 'Cabaret' received a national tour, was performed live on BBC3 In Tune, and featured at Home MCR's PUSH festival. She rejoined the Collective in summer 2019 as part of the Cubit Sessions, a collaboration with Kings Place, London. 2019 also saw the release of her debut single and video, Blue Dream– described by Staccatofy as "Stunning. A sheer delight." Nishla is currently making new music for the Manchester Jazz Festival originals commission, as half of electric jazz duo Night Porter with saxophonist Emma Johnson. She was announced as City Music Foundation artist in November 2020, and will be working with CMF over the next two years to develop the various strands of her creative and performance practice.
Tom Harris is a Mancunian pianist, improviser, and composer, most heavily influenced by Black American Music. Since dropping out of formal music education in 2018, Harris has developed his practice through collaborative work with artists from across the UK, including Rosie Tee, Marco Woolf, and Andy Scott. During that time he has also established a handful of longer-term projects – melodic and textural voice/piano duo wilkins/harris, improvising song interpreters Shrews, groove-based instrumental quartet Trampette, and ulita, a music-driven theatre collective with vocalist/composer Nishla Smith and visual artist Luca Shaw. Harris' most recent recording – canyon, exhibits i-vi. – was released independently in May 2021. This fully improvised duo EP with drummer Kai Chareunsy sparked a series of responses from artists across different disciplines – visual work by Imogen Richards, a short suite of poetry by Marco Woolf, and music videos by visual artist Luca Shaw and improvising dancer Stephanie Burrell. The duo have plans to take this collaborative cross-disciplinary approach further, and are currently looking into creating new work with filmmakers, poets, dancers, theatre-makers, storytellers, visual artists, and more.You can find more information about all of Harris' projects via www.tomharrismusic.com but he (*I) is (*am) quite bad at updating this site… the best place to get up to date news about upcoming performances/releases/etc. is by following him on Instagram (@tomharrisisacommonname) or Facebook (@tomharrismusician). canyon, exhibits i-vi. is available at https://canyonmusicuk.bandcamp.com/releases.
Aaron Wood is a trumpeter, producer and mix engineer based in the north of England. Over the last couple of years he has built up a portfolio working as a recording artist for numerous projects and musicians in the UK, Europe and USA.
He has recently played sold out shows at Jazz cafe, blues kitchen with Manchester artists SNG and Kinkai, as well as a string of gigs with The Nishla Smith Quintet. You can also find him swinging in Alexandra Park (If the weather's good). As a producer and mix engineer Aaron has had a full calendar since January. Projects including the 'Live at the Deli Lama' YouTube series, Tom Harris and Kai Chareunsy's Canyon, numerous beat tapes, and finally, the engineering and mixing of this here concert! Looking forward, Aaron is excited to be working on his debut solo project featuring a range of musicians from Manchester.