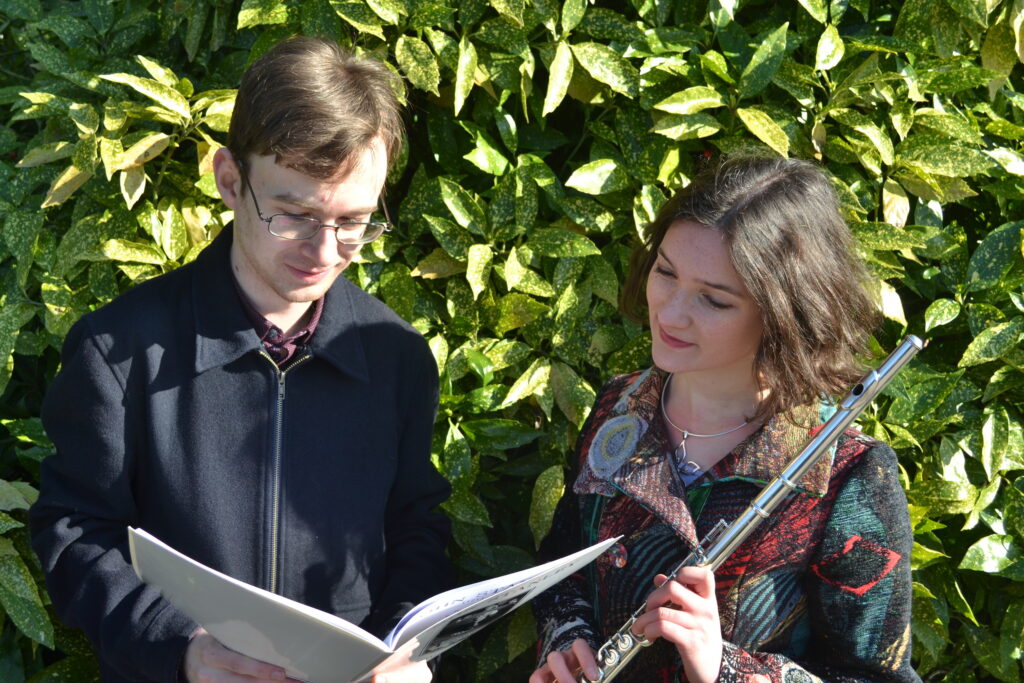 Image: Meera Maharaj and Dominic Degavino
Concert by Meera Maharaj and Dominic Degavino – flute & piano
PLUS Spotlight concert featuring talented young musicians from Sandbach
This event will be broadcast live and will not be available to be publicly viewed on social media.
Anyone will be able to attend our online concerts, but as places are limited we will be allocating online attendance slots to our regular audience and season ticket holders as a matter of priority.
If you are not a season ticket holder we would ask you to consider leaving a donation to the concert series (if you are able to) after the concert. We rely on our ticket income to keep our concert series going.
Welcome from the Chair of Trustees & the SCS Spotlight Director
Spotlight Concert featuring talented young musicians from Sandbach
Short Community spotlight on a music educator from Cheshire
Concert by Meera Maharaj and Dominic Degavino
Passacaglia for solo flute – Ernő Dohnányi
Sonatine for flute and piano – Henri Dutilleux
And Everything is Still – Andy Scott
Fantaisie brillante sur Carmen – Bizet/Borne
Meera Maharaj is currently a Tunnell Trust, Park Lane Group and Countess of Munster Recital Scheme artist, alongside pianist Dominic Degavino. Since 2013, she has frequently performed with guitarist James Girling, as the Meraki Duo. In 2019 they were finalists in the Royal Overseas League competition and are current International Guitar Foundation Young Artists.

Meera strongly believes that outreach work is equally important to her musical life and both her duos are Live Music Now ensembles. Competition successes include first prize in the Royal Academy of Music Flute Competition and Dutch International Flute Competition and 3rd prize in the British Flute Society Competition.

She graduated with Distinction in her Masters, studying with Michael Cox at the Royal Academy of Music, receiving generous scholarships supported by Sir Elton John, Countess of Munster Musical Trust and Help Musicians. In 2017, she graduated from the Royal Northern College of Music with first class honours, having studied with Wissam Boustany and Laura Jellicoe. Previously, she spent six years at the Junior RNCM.

Meera enjoys a diverse performing career and has played at the Concertgebouw, Bridgewater Hall, Wigmore Hall and Kings Place. She has also organised concerts in aid of her local Foodbank.
Pianist Dominic Degavino has performed concerts in venues across the United Kingdom and beyond, including solo performances at the Wigmore Hall and Southbank Centre, London as a Park Lane Group artist, at the Bridgewater Hall, Manchester and the Lichfield and Edinburgh festivals, among others. Concerto appearances include performances with the Manchester Camerata and RNCM Symphony Orchestra.
Having completed both school and undergraduate studies in Manchester with Helen Krizos, at Chetham's School of Music and the Royal Northern College of Music, he recently graduated from the Guildhall School of Music and Drama, where he studied with Charles Owen and Noriko Ogawa. 
Dominic has achieved considerable competition success, including winning the RNCM Gold Medal Competition, 3rd Prize at the Concours International de Piano d'Epinal in France, and keyboard section prizes of both the Tunbridge Wells International Young Concert Artists Competition and the 2017 Royal Over-Seas League Arts Competition. In 2020 he was accepted onto the Tillett Trust DEBUT recital scheme. He has taken part in masterclasses with eminent pianists such as Lang Lang, Richard Goode, Imogen Cooper, Peter Frankl and John O'Conor. 
Alongside work as a soloist, he is a passionate chamber musician, accompanist, and jazz player, performing extensively and winning prizes with a wide array of ensembles, including the Mithras Piano Trio and with flautist Meera Maharaj. 
He is grateful for the generous support of the Countess of Munster Musical Trust, Help Musicians UK, The Tillett Trust and the South Square Trust.
www.dominicdegavino.co.uk