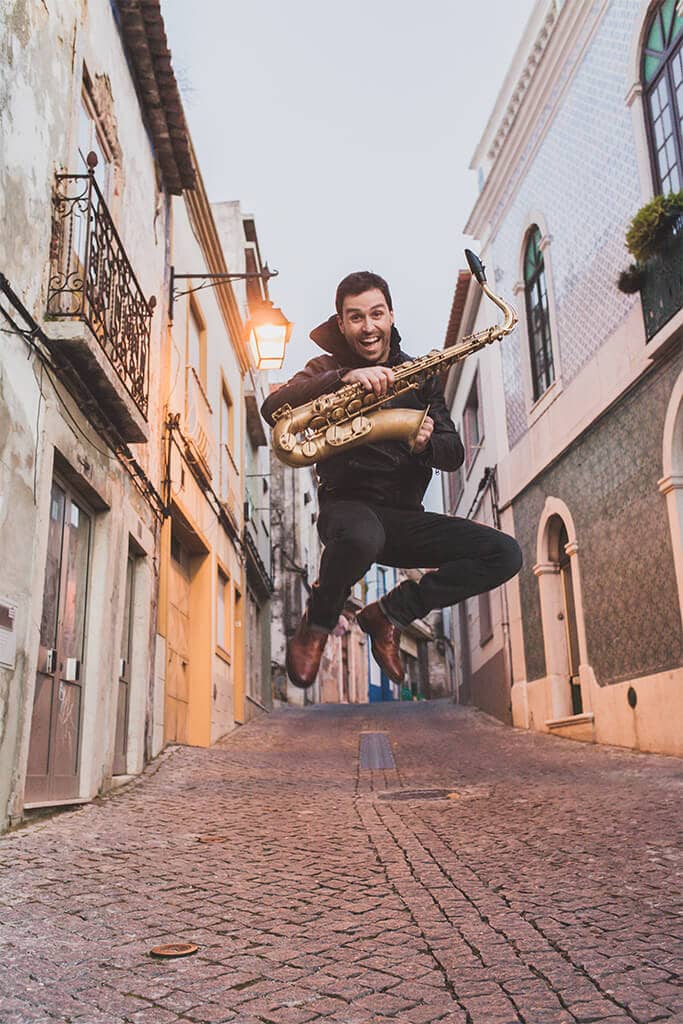 Concert by João Pedro Silva (saxophone) & friends
PLUS Spotlight concert featuring talented young musicians from Sandbach
This event will be broadcast live and will not be available to be publicly viewed on social media.
Anyone will be able to attend our online concerts, but as places are limited we will be allocating online attendance slots to our regular audience and season ticket holders as a matter of priority.
If you are not a season ticket holder we would ask you to consider leaving a donation to the concert series (if you are able to) after the concert. We rely on our ticket income to keep our concert series going.
Welcome from the Chair of Trustees & the SCS Spotlight Director
Spotlight Concert featuring talented young musicians from Sandbach
Short Community spotlight on Emma Clark from the Co-op Windband
Concert by João Pedro Silva (saxophone) & friends
Allemande by J.S. Bach
Courante by J. S. Bach
Sarabande by J.S. Bach
Cometa by Jorge Salgueiro
Deep Blue by Andy Scott
Leonora's Love Theme by Astor Piazolla
A Festa, O dia-adia, As Gentes by Lino Guerreiro
International YAMAHA and D'ADDARIO artist, João Pedro Silva has performed as soloist with the Portuguese Symphonic Band, Lisbon Sinfonietta Orchestra, Portuguese Navy Band, Portuguese Republican Guard Chamber Orchestra, Lisbon Metropolitana Wind Orchestra, Liceu Saxophone Ensemble  (Barcelona), Portuguese Double Reed Ensemble and the Lisbon Metropolitana Percussion Orchestra.
Has performed with some of the most important Portuguese orchestras, like Portuguese Symphonic Orchestra, Gulbenkian Orchestra, Lisbon Metropolitan Orchestra, Lisbon Soloists Orchestra, Lisbon Sinfonietta Orchestra, Lisbon Hot Club Big Band, working with conducters like Eric Stearn, Alain Guingal, Wayne Marshall, among others.
Has represented Portugal on the XIV, XVII and XVIII World Saxophone Congress (Lubiana, Strasbourg and Zagreb), playing with Artemsax Quartet, BROS Quartet, Duo João Pedro Silva & Pedro Vieira de Almeida, Tenor Saxophone Colletive, fusion OUT and Metropolitana Saxophone Ensemble. In the XVII WSC he was also invited to present a lecture about new music pedagogical approaches to the saxophone learning.
He is the tenor saxophone of the international quartet,  BROS quartet, had recording the CD "Pagine", Salvatore Sciarrino, with the Italian label Stradivarius. He has making a linking work with several Portuguese composers, on the creation on new repertoire for saxophone. He works regularly in artistic collaboration with several composers, in the creation of new repertoire for saxophone. It has established a continuous partnership with Antena 2 (Portuguese Classic Radio) on the news projects.
As a soloist has recorded the cds: "TIBI – "New Portuguese and American Music for saxophone, and more…",  "João Pedro Silva plays Jorge Salgueiro Vol.1" and "João Pedro Silva plays Jorge Salgueiro Vol.2". With Lino Guerreiro, is the author of the first Portuguese didactic book for the saxophone learning, "The Educational Saxophone", with preface by Claude Delangle, edited by AVA Musical Editions.
He is member of the international saxophone quartet Bros. Quartet, Artemsax Quartet, L.U.M.E. – Lisbon Underground Music Ensemble, Tenor Saxophone Colletive and Fusion Out, with which all it has presented all over Portugal and abroad and edited several CDs. He is the musical and artistic director of the Metropolitana Saxophone Ensemble, with who has recorded and edited a cd with new original Portuguese music for saxophone ensemble.
João is founding member and Vice-President of the Portuguese Saxophone Association. He took part of the EURSAX 17 European Saxophone Congress boarding team. He is saxophone and chamber music professor at the Lisbon Metropolitana Professional Music School and Palmela Regional Conservatory of Palmela. He is normally invited to give masterclass and workshops. He is the artistic director of FISP – Palmela International Saxophone Festival.
Born in Palmela, Portugal, began his musical studies at the Humanitária Philharmonic Society, Palmela, with Silvério Camolas. Studied with José Massarrão at Lisbon Superior Music School, with Alberto Roque at Almada Professional Music School with and Pedro Moreira at Luis Villas-Boas Jazz School. He also attended masterclass and seminars with Daniel Deffayet, James Houlik, Jean-Marie Londeix, Claude Delangle, Jean-Yves Formeau, Henk Van Twillert, Vincent David, Carlos Martins, Jerry Bergonzi, among others. He was laureate on Portuguese and international saxophone competitions.
Master in music performance (saxophone) and music pedagogy (saxophone) by the Lisbon Superior Music School. He is now pursuing a PhD in musical performance at the University of Évora.