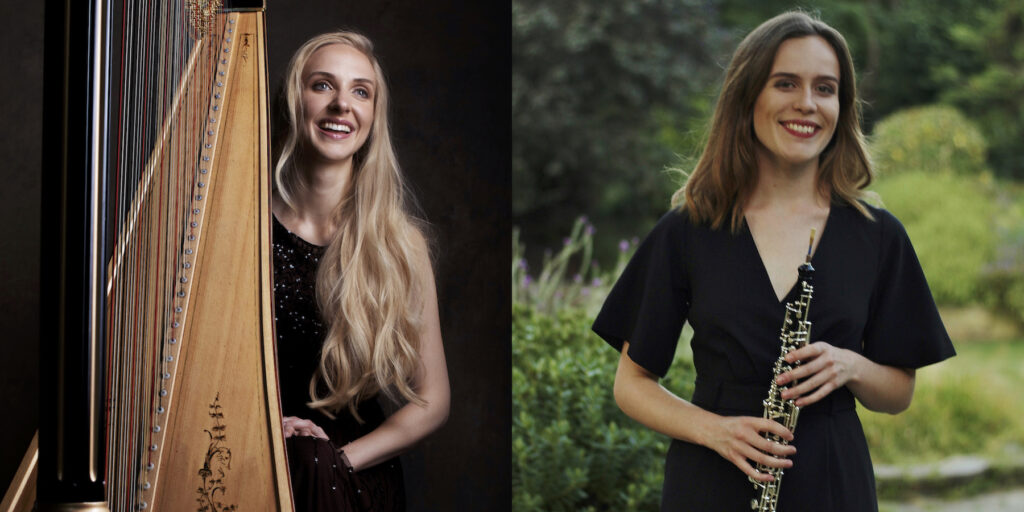 Image: Elizabeth Bass and Katherine Bryer
Concert by Eos Ensemble – Katherine Bryer (oboe) and Elizabeth Bass (harp)
PLUS Spotlight concert featuring talented young musicians from Sandbach
This event will be broadcast live and will not be available to be publicly viewed on social media.
Anyone will be able to attend our online concerts, but as places are limited we will be allocating online attendance slots to our regular audience and season ticket holders as a matter of priority.
If you are not a season ticket holder we would ask you to consider leaving a donation to the concert series (if you are able to) after the concert. We rely on our ticket income to keep our concert series going.
Welcome from the Chair of Trustees & the SCS Spotlight Director
Spotlight Concert featuring talented young musicians from Sandbach
Short Community spotlight on a music educator from Cheshire
Concert by Eos Ensemble
J.S. Bach (1685—1750) Sonata in G minor BWV 1020
I – Allegro   II – Adagio
Sophia Dussek (1775-1831): 'My ain kind Deary O!' from Favourite Airs, Book 7, for harp and flute accompaniment
Fanny Hensel née Mendelssohn (1805-47): Four Songs for Piano, Op. 6, No. 1 in Ab major
Clara Schumann (1819-96): Romance No. 1 from Three Romances for Violin and Piano, Op. 22
Harrison Birtwistle (b. 1934) – Nos 1, 5 and 12 from Orpheus Elegies
Claude Debussy (1862-1918) – 'Rêverie' and '2me Arabesque'
William Grant Still (1895—1978) – Incantation and Dance
Katherine Bryer and Elizabeth Bass of Eos Ensemble met whilst studying at the Royal Academy of Music and began playing together during their time as solo artists on the The Countess of Munster Recital Scheme 2018-20. They came together as a duo with a desire to promote the less common ensemble combination of oboe and harp and to bring arrangements of well-known classics as well as less familiar repertoire to audiences. Eos Ensemble have a strong interest and commitment to exploring and performing neglected repertoire by underrepresented composers, and they have enjoyed adapting and arranging pre-existing works to suit their combination.
Katherine Bryer first began playing the oboe in Northamptonshire before moving to Edinburgh to study with Joe Houghton at St Mary's Music School. During her Bachelors and Masters studies at the Royal Academy of Music in London, Katherine learnt with Christopher Cowie, Ian Hardwick and Celia Nicklin, and cor anglais with Sue Böhling and Jill Crowther. Over the course of her studies Katherine was twice the winner of the Barry Grimaldi Cor Anglais Prize, and was also awarded 1st prize in both the Leila Bull and Evelyn Rothwell/Barbirolli Oboe Prizes. As well as being actively involved in Academy projects and competitions, Katherine was eager to expand her orchestral and solo opportunities outside of her studies. In 2017 she successfully auditioned for the London Philharmonic Orchestra's Foyle Future Firsts Development Programme, and then the Philharmonia Orchestra's Martin Musical Scholarship Fund Instrumental Fellowship Programme in 2018.
An active orchestral musician, Katherine has held trials and appeared with orchestras including BBC Symphony Orchestra, Philharmonia Orchestra and Scottish Chamber Orchestra, and has enjoyed performing in concert halls across the country and abroad. As a 2018-2020 Countess of Munster Musical Trust Recital Scheme Artist Katherine has very much enjoyed the opportunities to expand her solo and chamber playing in recitals and exciting projects. Katherine is also incredibly grateful to The Countess of Munster Musical Trust for their financial support throughout her postgraduate study. In her spare time when not reed making Katherine enjoys reading, trying to perfect her sourdough baking, and going for the very occasional run.
Elizabeth Bass works as a soloist, chamber musician, orchestral and ensemble player and recording artist across the U.K. and beyond. Elizabeth has won both national and international prizes including the Silver Medal at the 2016 USA International Harp Competition, First Prize in the 2014 London Camac Harp Competition, an International Lyon&Healy Award in 2013, and the Skaila Kanga Harp Prize (2016) and Lady Theodore Holland Prize (2017) at the Royal Academy of Music. Elizabeth enjoys performing for major music festivals across the U.K as an artist on the Countess of Munster Recital Scheme (2018-2020) and most recently as one of Making Music's 2020/22 PDGYA winners.
Elizabeth works with orchestras including the BBC Concert Orchestra (trialist 2018-present), City of Birmingham Symphony Orchestra (trialist 2018-2019,) BBC Symphony Orchestra, City of London Sinfonia, Frankfurt Radio Orchestra, Orchestre Révolutionnaire et Romantique and for recording sessions at all the major London studios. Elizabeth also works with contemporary ensembles including the Birmingham Contemporary Music Group and Lontano. After graduating from the RAM in 2017 Elizabeth studied privately in Helsinki with Sivan Magen and in 2020 she began her Master's course at the CNSMD de Paris, studying with Isabelle Moretti whilst living and working in London.